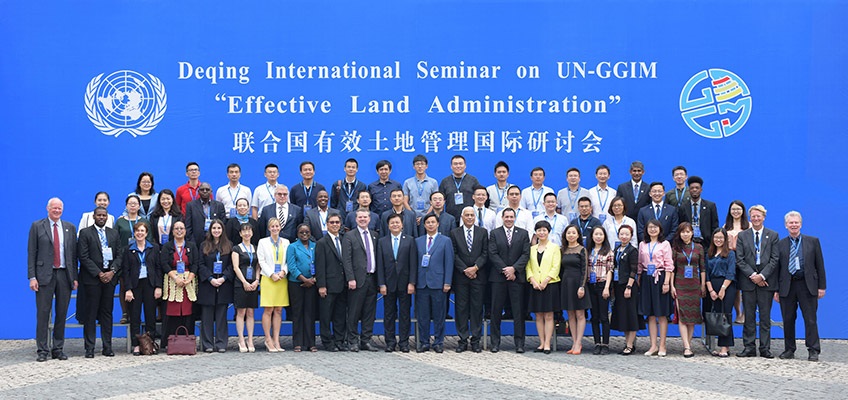 The Deqing International Seminar on United Nations Global Geospatial Information Management with the theme "Effective Land Administration" was held at the Treasure Island International Hotel, Wukang Town, Deqing, Zhejiang Province, China from 27 to 28 September 2018. The international seminar was very ably and hospitably hosted by the Ministry of Natural Resources, China, the Zhejiang Provincial Government and the Deqing County Government. A total of sixty-nine participants from eighteen countries participated in the international seminar.
The Deqing International Seminar provided a forum that promoted dialogue on issues and challenges on the application of geospatial information for land administration and management with all relevant governments and related stakeholders as mandated by the United Nations Economic and Social Council (ECOSOC) to the Committee of Experts on Global Geospatial Information Management (UN-GGIM), which is a subsidiary body of ECOSOC. With the theme "Effective Land Administration", the international seminar together with the Deqing meeting of the United Nations Expert Group on Land Administration and Management (26 & 29 September 2018) deliberated the need for and benefits of effective and efficient land administration and management for the wellbeing of society, environment and economy.
Presenters, panelists and participants engaged each other, shared knowledge, practices and experiences, exchanged new ideas and approaches, and learned of varying backgrounds and circumstances as well as current, emerging and new trends and context that have to be considered and addressed. Effective land administration seeks to serve and strive for the wellbeing of people, planet, peace and prosperity.
Documentation for the Deqing International Seminar
Joint Official Opening Session
Presentations