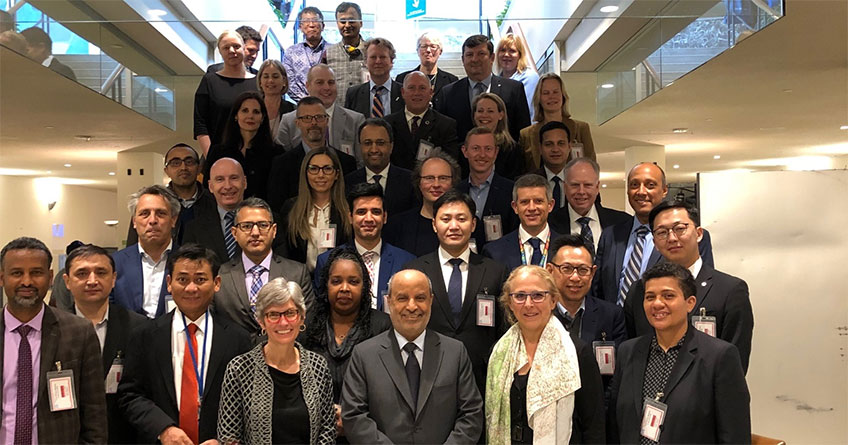 The United Nations Committee of Experts on Global Geospatial Information Management (UN-GGIM) emphasized that the United Nations Integrated Geospatial Information Framework (IGIF) now provided an overarching paradigm to further strengthen nationally integrated geospatial information management, not only for Member States that were in the early stages of adopting national spatial data infrastructures but also for those that had already successfully implemented spatial data infrastructure capabilities, and that continuous collaboration would be necessary including with other emerging and complementary geospatial initiatives that extends the IGIF's relevance in the future geospatial information ecosystem.
This first formal meeting of the HLG-IGIF, in-person, allowed members of the HLG-IGIF, the UN-GGIM Bureau, Friends of the co-Chairs of UN-GGIM and invited expert representatives who energetically engaged, interacted and worked with one another to review, consider and discuss challenges, progress to-date and accomplishments. The meeting considered, elaborated the HLG-IGIF plan for the work for 2022 - 2023 noting the global importance of the IGIF for strengthening national geospatial information management towards implementing national development priorities and the 2030 Agenda for Sustainable Development. The meeting also allowed the Bureau and Friends of the co-Chairs together with all meeting participants to conclude their deliberations on key elements of the UN-GGIM report to the United Nations Economic and Social Council in its 2022 Session on the its implementation of resolution 2016/27.
UN-GGIM, at its tenth session, established a dedicated high-level group of experts, with balanced geographical representation and expertise, as a mechanism to provide strategic leadership, coordination and oversight in order to ensure the sustained success of the IGIF, and to mobilize the resources necessary to maintain the momentum and refinement of the IGIF as a continuously evolving process. UN-GGIM, at its eleventh session, endorsed the strategic plan of the HLG-IGIF, including its six defined goals and focus actions, supported three priority goals identified for immediate attention, as an essential step towards the continued success and relevance of the IGIF. UN-GGIM also emphasized the importance of maintaining the impact and continuity of the IGIF at the national level, and that was applicable for all Member States, and noted suggestions from Member States for the HLG-IGIF to consider in its plan of work. The IGIF serves as a key umbrella for the many activities under the purview of the UN-GGIM, including the regional committees and thematic groups of UN-GGIM, and could be applied to any country to guide transformational change.
The meeting was attended by 39 expert representatives from 23 countries together with 6 representatives of 5 international organizations invited to participate in the work of the HLG-IGIF and the UN-GGIM Bureau.
Tuesday, 26 April 2022
Wednesday, 27 April 2022
Thursday, 28 April 2022