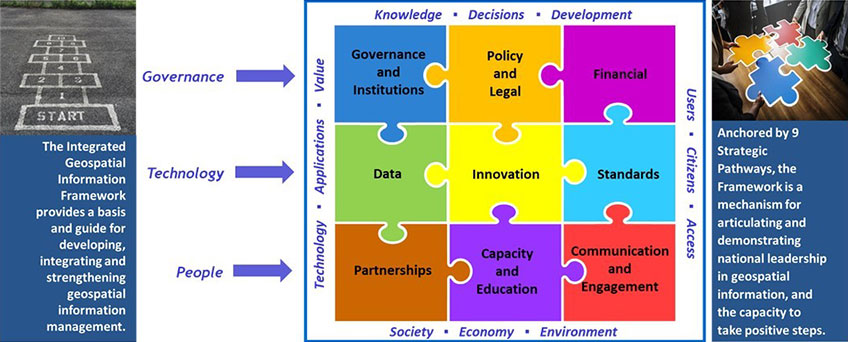 Overview
The Integrated Geospatial Information Framework (IGIF) provides a basis and guide for developing, integrating, strengthening and maximizing geospatial information management and related resources in all countries. It will assist countries in bridging the geospatial digital divide, secure socio-economic prosperity, and to leave no one behind
Documents
Global Consultation - Additional Information
We are extending the consultation period for the final 2 chapters only (Strategic Pathway's 3 and 5) to conclude on Friday, 17 July 2020. We would be grateful for your review as appropriate, and strongly encourage the submission of your contributions for the first eight chapters of the Implementation Guide by 26 June 2020, if possible please.
---
Global Consultation - Extended to 26 June 2020
As a small number of chapters of the draft Implementation Guide have not been completed and progressively loaded onto the website in a timely manner as was originally anticipated, the broad global consultation period has now been extended to conclude on 26 June 2020.
---
At its ninth session in August 2019, the Committee of Experts welcomed the development and refinement of the Implementation Guide of the Integrated Geospatial Information Framework (IGIF) in preparation for subsequent and broader global consultations with Member States and other key stakeholders. The Committee also agreed that the Implementation Guide should be showcased at the Sixth High Level Forum on UN-GGIM, to be held in the United Kingdom of Great Britain and Northern Ireland, in April 2020.
With the continued support of the World Bank, the Regional Committees of UN-GGIM, and other international partners, over the past year the UN-GGIM Secretariat has initiated an ongoing inclusive global engagement and consultative process through expert workshops and meetings to develop the Implementation Guide constructively with inputs from more than 110 countries. This approach has had the benefit of ensuring that, as a methodological framework, the IGIF and the Implementation Guide is truly 'country owned, and country led'.
Annual sessions
Overview
Quick links