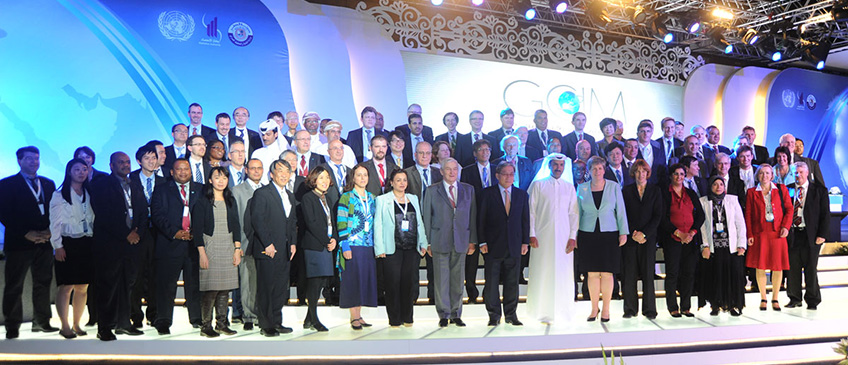 We are pleased to record that the Second High Level Forum on Global Geospatial Information Management (GGIM) was held in Doha, Qatar from 4-6 February, 2013 at the Qatar National Convention Centre.
The Secretariat of the United Nations Committee of Experts on Global Geospatial Information Management (UN-GGIM), in collaboration with the Government of Qatar, successfully convened the Second High Level Forum.
The Forum bought together 350 participants from 60 Member States, international organizations, the private sector, and UN entities who affirmed the importance of UN-GGIM providing global leadership on geospatial information management, and committed to support the ensuing projects and programmes through the Doha Declaration. The participation of Qatar's Prime Minister and the delivery of eight Ministerial Statements also highlighted the importance accorded to UN-GGIM aims and activities.
The activities began on Sunday, 3 February, 2013 with An 'Exchange Forum with the Geospatial Industry'. The High Level Forum began on Monday, 4 February, 2012 with an Opening Ceremony and Ministerial Segment, followed by five technical sessions over the next three days. Each session had a keynote presentation, panel presentations and discussion with the audience.
The discussions were centered on building national geospatial information systems, sharing some of their strategies and successes, an examination of the technological trends impacting the future of geospatial information management and how these technologies can be best leveraged, the challenges experienced and the solutions used to develop geospatial reference data sets, the overwhelming need to use geospatial information to address sustainable development issues, and also emphasized the requirement for UN-GGIM to provide leadership to ensure sustainable geodetic frameworks that are operable nationally, regionally and globally.
The High Level Forum provided the opportunity for Member States of the ESCWA region to meet to discuss UN-GGIM. All 11 Member States present agreed in principle that more regional cooperation on GGIM was needed. UN-ESCWA and the UN-GGIM Secretariat, with the help of other regional GGIM groups, will provide the guidance and support to help the region to establish their own regional GGIM mechanism.
List of Documents
Outcome of the Second High Level Forum on Global Geospatial Information Management (GGIM)
Opening Address
Ministerial Segment
Presentation Materials
Other Documents
Note
Please be informed that the technical reports submitted by regional entities and member states are not reviewed or edited by the secretariat. These reports facilitate the technical discussion of the subject matters on the agenda and help clarify technical issues. The contents of the reports does not reflect the position of the United Nations Secretariat.
The designations employed and the presentation of material does not imply the expression of any opinion whatsoever on the part of the Secretariat of the United Nations concerning the legal status of any country, city or area, or of its authorities, concerning the appellation of places, or concerning the delimitation of its frontiers or boundaries.