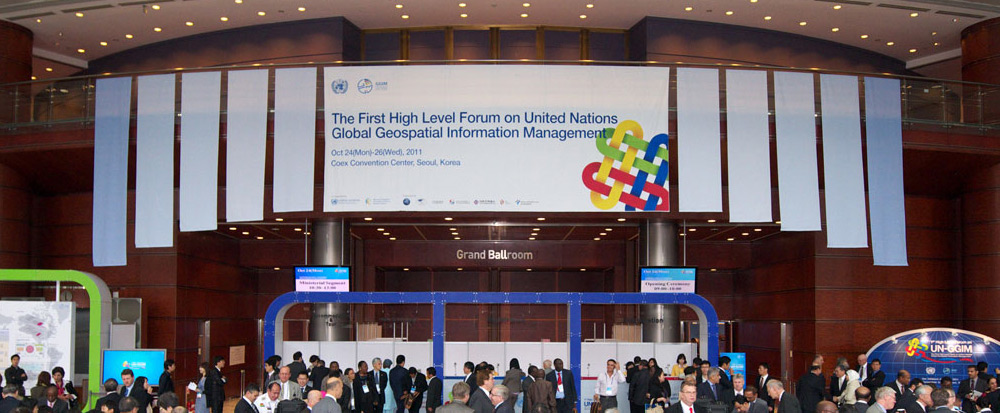 Overview


The Inaugural meeting brought together 350 experts from 90 countries, 22 United Nations representatives and 37 representatives from international organisations and the private sector.
The Forum was opened by Prime Minister Kim Hwang-Sik of the Republic of Korea, United Nations Under-Secretary-General Mr. Sha Zukang, and Prof. Cartwright, President of the Joint Board of Geospatial Information Societies.
The Forum began with a Ministerial Segment with Ministers from eight countries ( Korea, Chile, Finland, India, Malaysia, Mongolia, Namibia, Niger). They all endorsed the important role of geospatial information in policy formulation and evidence-based decision making for national development.
The Terms of Reference of the Committee of Experts was adopted, the Rules of Procedure of the Committee were reviewed, its contribution to Rio+20 was discussed as well as an inventory of critical issues to be addressed by the Committee for future sessions.
Discussed were the importance of collaboration among Member States in developing common frameworks, tools and procedures, the need to share best practices on the impact and usefulness of well implemented national spatial data infrastructures. It was also recognized that the geospatial industry is a key partner in global geospatial information community and noted the importance of continuing the dialogue between governments and industry under the umbrella of UN-GGIM.
The Seoul Declaration was adopted at the end of the Forum.