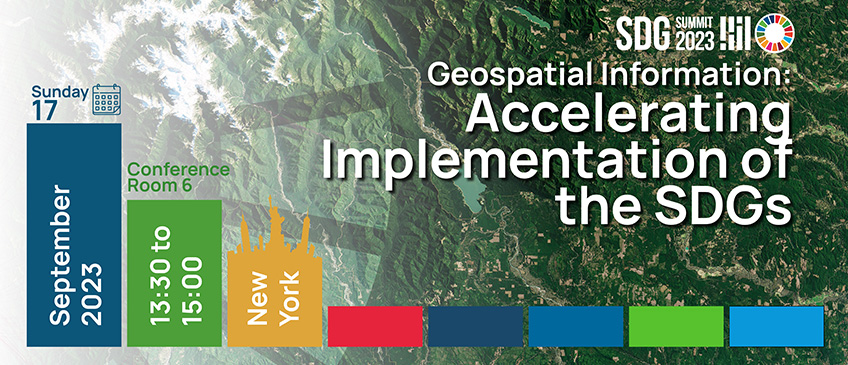 Geospatial information now underpins everything we do. All countries and all sectors need geospatial information to address national priorities, for national development and for decision-making. Its full integration with other data of relevance to our lives is key to providing better information and shared understanding, which in turn enables us to better achieve local, national, and global goals, including the 2030 Agenda for Sustainable Development, COVID-19 recovery, and our climate agenda. However, while the links and the digital divide between the global development agendas and the application of timely and reliable geospatial information and enabling technologies have been identified and documented by UN-GGIM, transitioning and 'accelerating' these key capabilities to 'implementation reality' for many countries is complex and remains ongoing.
Thus, the side event 'Geospatial Information: Accelerating Implementation of the SDGs' is being convened on 17 September 2023 as part of the SDG Acceleration Day, on the SDG Action Weekend 16-17 September 2023. The side event will demonstrate the immense value and utility of geospatial information, as a critical component of a national infrastructure and knowledge economy, providing a blueprint of what happens where, and providing the means to integrate a wide variety of government services that contribute to economic growth, national security, sustainable social development, environmental sustainability, peace, national prosperity and the development agendas and priorities of the United Nations.
In particular, participants at the side event will be informed of the following:
High-level statements and perspectives on the importance of geospatial information by global leaders from Member States.
How UN-GGIM is accelerating implementation of the SDGs through its global programme of work.
The critical role of geodesy and positioning in our modern world.
How 'on the ground' SDG implementation is being achieved with geospatial information in developing countries.
Hear from the 'geospatial voices of Africa' as a shared vision for accelerating implementation of the SDGs with geospatial information.
The side event will be held at UNHQ from 13:30-15:00, Conference Room 6 on Sunday 17 September 2023. Participation at the side event is limited to those with a valid UN Grounds Pass or a Special Events Ticket.
The webcast for the Side Event is here: https://youtu.be/TTincwiXJ2E?si=s6oCSAf6yAVTaJQw
Agenda and Presentations
Moderator: Mr. Stefan Schweinfest, Director, Statistics Division, UNDESA
Introductory Remarks: Mr. Li Junhua, Under-Secretary-General, UNDESA


The Power of Geospatial Information: Accelerating implementation of the SDGs
PVBLIC Foundation (Mr. Sergio Cordova)
WK Kellogg Foundation (Mr. Alix Cantave)
UN Geospatial Network (Mr. Alexandre Caldas, UNEP)
What Exactly is Geodesy - Why do we have a Global Geodetic Centre of Excellence?
Germany: Global Geodetic Centre of Excellence (Mr. Frank Jarasch)
The Integrated Geospatial Information Framework - Knowledge and Capacity Building
China (Amb. Dai Bing, First Deputy Permanent Representative of China to the UN)
Mexico (Ms. Camila Zepeda Lizama)
Closing Remarks: Mr. Stefan Schweinfest, Director, Statistics Division, UNDESA