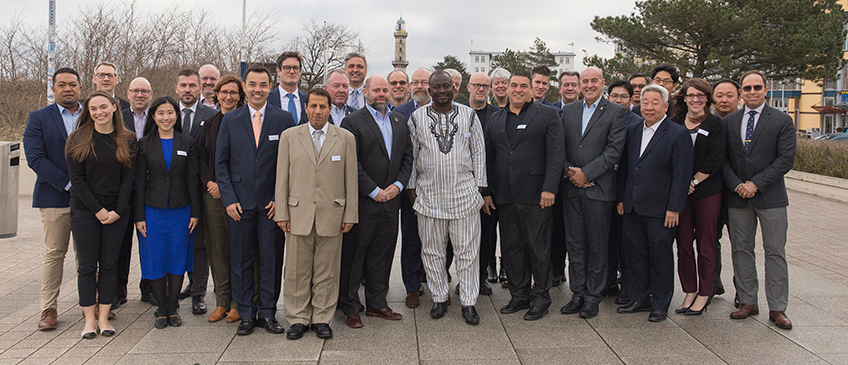 Marine geospatial information is an integral component of global geospatial information management, contributing to the availability and accessibility of comprehensive location-based information to support Governments in developing policies, priorities and programmes, make decisions, and measure and monitor progress and outcomes. Marine geospatial information is essential for the effective management, administration and governance of marine spaces that encompasses inland water bodies and waterways, coastal zones, seas and oceans. The Working Group aims to play a leading role in integrated marine geospatial information management to support the wellbeing of billions of inhabitants reliant on sustainable inland water bodies and waterways, coastal zones, seas and oceans.
Thirty three participants, twenty three expert representatives from eighteen Member States, met in the comfortable and conducive meeting facility provided by the Federal Maritime and Hydrographic Agency (BSH) of Germany, a member of the working group. The expert meeting was held at the Leibniz-Institute for Baltic Sea Research Warnemünde in Rostock-Warnemünde, Germany from 24 - 28 February 2020. During the first half of the week, the working group had joint meeting sessions with the marine spatial data infrastructure working group of the International Hydrographic Organization (IHO) and the marine domain working group of the Open Geospatial Consortium (OGC). The joint meeting sessions proved beneficial, avoided duplicative agenda items, promoted better understanding and hence considerations of matters that are important to the marine geospatial information community.
The meeting considered both substantive and administrative matters before the working group. This included, but not limited to, reviewing and revising the work plan for the period 2021 - 2022 at a later date; the application of marine geospatial information to support the management of coastal zones, including the preparation of management plans. In addressing the land and sea interface, the need to collaborate across the marine, terrestrial and cadastral domains was stressed. The meeting considered issues and challenges with regards to the collection, storage, management and sharing of geospatial information as relate to inland water bodies and waterways. In addressing geospatial information issues and challenges for inland water bodies and waterways and the land and sea interface, the working group will consider integrated geospatial data management approach including in support of integrated ecosystems-based management. The working group in recognizing that marine geospatial information must be made available, accessible and discoverable for a multiplicity of applications and purposes, continue to advance its efforts and work plan, including working towards a reference document on the implementation of the United Nations Integrated Geospatial Information Framework for the marine domain - for the administration, management and governance of oceans and seas, coastal zones and deltas, inland water bodies and waterways.
26 February 2020
27 February 2020
28 February 2020