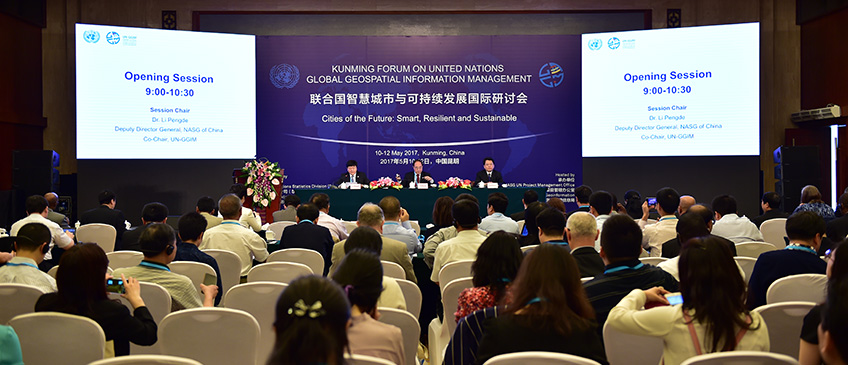 The Kunming Forum informed the global geospatial information management community of the unique challenges and opportunities vis-à-vis to proactively shape and build smart, resilient and sustainable cities of the future. The demand and need for quality, reliable and timely data to inform good policy and decision making in urban contexts must not be under-estimated. Concerted and collaborative efforts are needed to bring together and integrate data and information from multiple sources and with differing scales and temporality, leveraging geospatial information management as a technological and critical enabler for all countries.
The Kunming Forum on United Nations Global Geospatial Information Management (UN-GGIM), with the theme "Cities of the Future: Smart, Resilient and Sustainable" was convened in Kunming, China, from 10-12 May 2017. More than 160 experts from 30 countries met to share experiences and methodologies on a number of contemporary topics to emphasize and explore the role and contribution of geospatial information in shaping and building smart, resilient and sustainable cities of the future. The Kunming Forum was organised by the United Nations Statistics Division, Department of Economic and Social Affairs, as the Secretariat of the UN-GGIM in collaboration with the Government of China through the National Administration of Surveying, Mapping and Geoinformation.
The Forum was opened with forward-looking statements by: Dr. Liu Huiyan, Vice Governor, Government of Yunnan Province; Mr. Wu Hongbo, Under-Secretary-General for Economic and Social Affairs, United Nations; and Mr. Kurexi Maihesuti, Vice Minister, Ministry of Land and Resources and Director-General, National Administration of Surveying, Mapping and Geoinformation of China. All invited officials agreed that the theme of the Kunming Forum was most appropriate and timely, providing all stakeholders a platform to address both challenges and opportunities to proactively shape cities of the future that will be smarter, more resilient and sustainable.
The technical thematic sessions of the Kunming Forum provided leading, innovative and encouraging ideas, and comprised topics that included: visioning the cities of the future; leveraging innovation and technology; emerging approaches and methods in data collection, mapping and modelling; integrative information systems and their growing analytical needs; geospatial information and services for disasters; cooperation and partnerships; capability and capacity development; and the geographic dimensions of the 2030 Agenda for Sustainable Development.
Contact details:
Mr. TEO CheeHai
Global Geospatial Information Management
United Nations Statistics Division
Department of Economics and Social Affairs
Email: teo@un.org
Documents
Materials for the Kunming Forum
Statements

Mr. Wu Hongbo, Under Secretary General for Economic and Social Affairs, United Nations
Mr. Kurexi Maihesuti, Vice Minister, Ministry of Land and Resources, Director-General, National Administration of Surveying, Mapping and Geoinformation of China
Presentation Materials
Session 1: Visioning the Cities of the Future
Session 2: Smart and Resilient Cities: Leveraging Innovation and Technologies
Session 3: Smart and Resilient Cities: Leveraging Integrative Information Systems
Session 4: Smart, Resilient and Sustainable Cities: Cooperation and Partnerships
Session 5: Where is the data? Towards a Sustainable Data Ecosystem
Session 6: Leveraging the Data Ecosystem
Session 7: Resilient Cities - Strategic Framework on Geospatial Information and Services for Disasters
Session 8: Improving Availability and Application of Geospatial Information
Session 9: 2030 Agenda for Sustainable Development