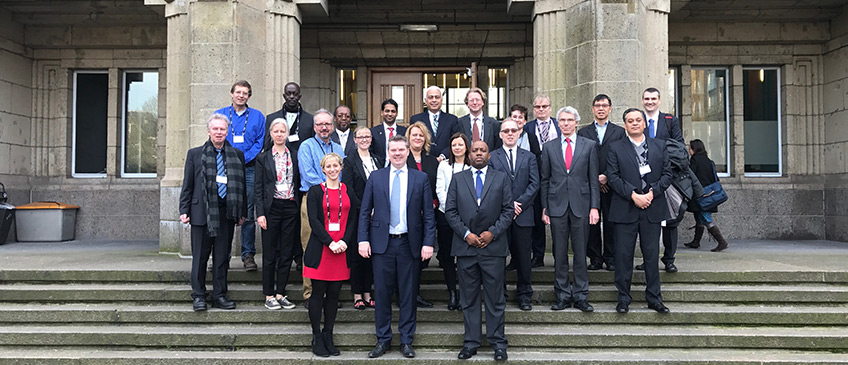 The Expert Group at the conclusion of its Delft Meeting agreed that the overarching focus of efforts is to improve tenure security and better land and property rights for all. The Sustainable Development Goals and its global indicator framework together with other related land-sector indicators are meant to assist in review and follow-up, measure and monitor progress. There is the continuing need to advocate policies that promotes i) affordable access to basic geospatial dataset, ii) avoid duplication particularly in mapping iii) quality, iv) timeliness, v) data sharing and vi) interoperability and standards.
The two-day meeting of UN-GGIM Expert Group on Land Administration and Management was attended by 20 expert representatives and 3 observers from 11 Member States, 3 UN System entities and 3 international organisation. This expert group meeting was hosted by the Government of the Netherlands through Kadaster International of the Netherlands. The meeting facilities were sponsored by Faculty of Architecture and the Built Environment, Delft University of Technology. Of the 26 members of the Expert Group, 16 participated and there were apologies from 7 others. There were a total of 37 presentations, 31 of which were prior prepared and delivered by the expert representatives who attended the EGM. The meeting was broken up into three break-out groups where experts and observers were able to consider, debate and deliberate together and more substantively in these smaller group settings.
Moving forward, the Expert Group identified three key tasks and agreed that the current work plan will be revised accordingly to reflect the outcomes of this expert group meeting.
Documentation for the Delft Meeting
Presentation Materials
Day 1
Session 1-B - morning session:
Session 1-B: Welcome, Introduction and Scene Setting
Session 2-A: Towards a globally agreed standards and specifications