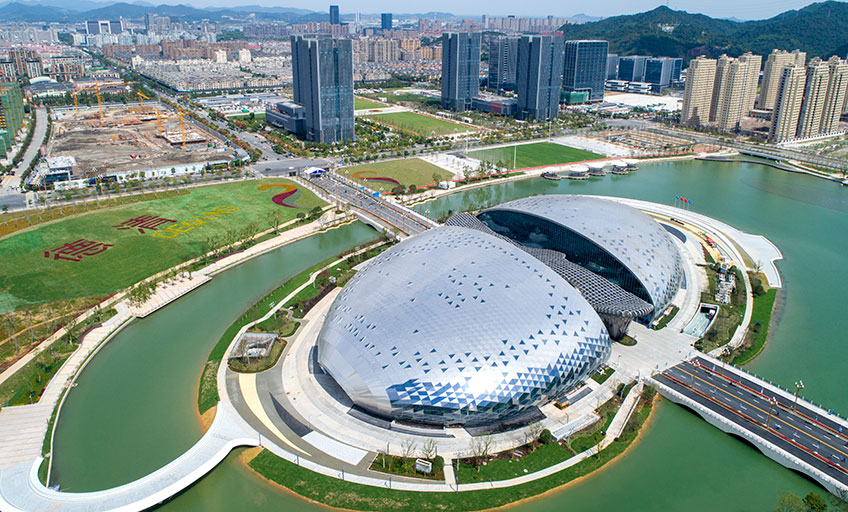 In November 2018, the Ministry of Natural Resources of China and the Zhejiang Provincial Government successfully hosted the inaugural United Nations World Geospatial Information Congress at the Deqing International Convention Centre. The Moganshan Declaration issued at the conclusion of the Congress, resolved to work together to build a human data and geography community for a shared and better future, and to keep the promise to leave no one behind by fostering effective cross-sector and interdisciplinary international, regional and local collaboration and partnerships, and to support national development priorities. In his opening statement, the Secretary-General of the United Nations emphasized that "geospatial data, methods, frameworks, tools, and platforms is urgently needed, and that reliable, timely, accessible and disaggregated geospatial information must be brought to bear to measure progress, inform decision-making and ensure effective and inclusive national and subnational programs that will chart the path towards the 'Geospatial Way to a Better World', to assist in the implementation of the SDGs, and transform our world for the better".
Geospatial information and enabling technologies, the 'data ecosystem and related architectures", have evolved and progressed at considerable pace. Geospatial information is able to be presented in many forms and mediums, providing the digital connection between a place, its people and their activities, and to illustrate what is happening - where, how and why. It is also used to model and portray the impact of the past, the present and likely future scenarios. Technological enablers such as the Internet, Cloud computing, analytics, Big Data, mobile devices, unmanned aerial systems, and the rapid explosion of location-based services, which bring everyone directly into contact with location information every day, have ensured that people the world over, are beginning to appreciate the need for geospatial information in their consumption of data.
The Deqing International Workshop and Seminar on United Nations Global Geospatial Information Management with the theme "the data ecosystem for sustainable development" seeks to provide a platform for deliberating key features and considerations of a data ecosystem for sustainable development, and interact on the geospatial technologies and methodologies needed to leverage digital transformation and realize this data ecosystem that delivers the evidence on 'where' people interact with their place, events, activities (including economic activities) and environment, and to deliver timely and reliable information necessary for citizens, businesses, organizations and governments to build accountable actions and evidenced-based decisions.
The international workshop and seminar is organized by the United Nations Secretariat for Global Geospatial Information Management and the Government of China through the Ministry of Natural Resources and the Zhejiang Provincial Government with the support of the Regional Committee of United Nations Global Geospatial Information Management for Asia and the Pacific.
Documentation for the meeting
Provisional Annotated Agenda
Provisional List of Participants
Annual sessions
Overview
Quick links