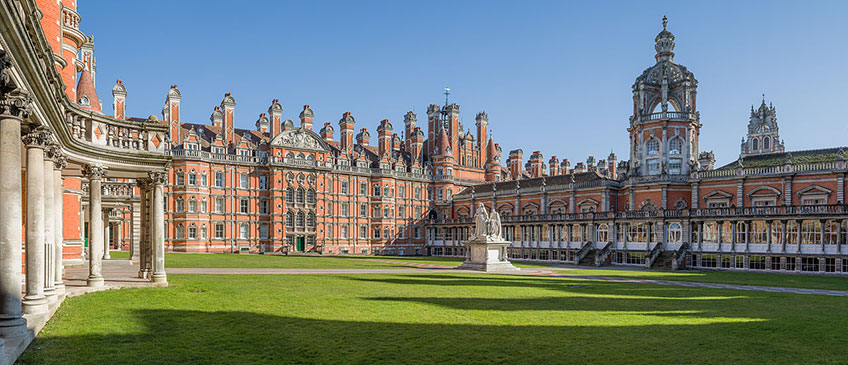 The sixth High Level Forum on United Nations Global Geospatial Information Management with the theme 'Changing the World - Geospatially' is organized by the United Nations Committee of Experts on Global Geospatial Information Management (UN-GGIM) in collaboration with the Government of the United Kingdom of Great Britain and Northern Ireland through the Ordnance Survey of Great Britain. It will be held at Royal Holloway College, University of London, Windsor, United Kingdom from 20-22 April 2020. This sixth edition of UN-GGIM's High Level Forums will have the substantive support from each of the five Regional Committees of United Nations Global Geospatial Information Management (UN-GGIM: Asia and the Pacific, UN-GGIM: Americas, UN-GGIM: Africa, UN-GGIM: Europe, and UN-GGIM: Arab States) as well as its four thematic networks (UN-GGIM: Geospatial Societies, UN-GGIM: Academic Network, UN-GGIM: Private Sector Network, and UN-GGIM: UN System Network).
The Sixth High Level Forum is being staged in pursuance of the mandate from the United Nations Economic and Social Council (ECOSOC) to convene global forums to promote comprehensive dialogue on global geospatial information management with all relevant governments, non-governmental organizations and the private sector. The event will continue the discussions and consultations from previous High Level Forums, and the United Nations World Geospatial Information Congress, provide follow-up on issues from the inter-governmental meetings of the Committee of Experts, and provide Member States and related geospatial stakeholders with the unique opportunity to share and learn from each other, new ideas, methods and strategies based on the United Nations Integrated Geospatial Information Framework and emerging trends in technology, policy, innovation that further the implementation of the Sustainable Development Goals (SDGs).
With an overarching theme 'Changing the World - Geospatially', the Sixth High Level Forum will be a truly global event bringing together all stakeholders at the highest level to address and ensure that geospatial information has its widest and fullest use in service of social, economic and environmental development. The Forum offers the opportunity for the global geospatial information community to pay particular attention to the role of emerging geospatial technology and innovation in implementing the 2030 Agenda for Sustainable Development and aims to substantively help to improve and strengthen the national geospatial information management capacities of all countries, to enable them to use evidence-based policy and decision making for enhanced societal, economic and environmental value and benefits.


Documentation for the Sixth High Level Forum
Announcement Letter
Information Note (forthcoming)
Provisional Annotated Agenda (forthcoming)
Outcome of the Sixth High Level Forum
Opening Statements
Presentation Materials
Annual sessions
Overview
Quick links